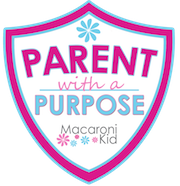 ​
When Seth Cohen, contacted me about the FREE KIDS ART DAY his organization Maya's Rainbow is sponsoring at the Leon & Toby Cooperman JCC in West Orange on April 2nd, I was immediately inspired by this incredible Parent with a Purpose, and motivated to share his story with you. When Seth's 5 year-old daughter Maya passed away in December 2015 of a rare heart condition, Seth and his wife powerfully and positively shifted their energies from this terrible loss to "Maya's amazing life." Maya's favorite thing to do was to color and draw - especially rainbows - and thus Maya's Rainbow was founded to give kids a place to create and set their imaginations free (but I'll let Seth tell the rest of his own beautiful story, below!):
Tell us a little about why you started Maya's Rainbow?
Almost immediately after Maya's death, I had this gnawing feeling that I needed to do something to honor her - to bring Maya's Rainbow to life and that this is what I was supposed to do. As I've been doing this, I've learned that I did this as my way of being Maya's Dad. There is nothing in this world that I take greater pride in than being a father and the immensely close bond I have with my children. While not how I imagined it, Maya's Rainbow Foundation gives me that sense of connection. I get to talk about Maya every day. I get to think of all the positivity she brought to this world. Lastly, I did this because to know Maya was to know that somehow she was going to change the world. While I will never know how, I am certain she would have made this world a much more positive place. And so, I have taken up that mantle. I am merely her hands. I am making this world better in my personal life and through Maya's Rainbow Foundation. I know that if I can get one more kid to love to create the way Maya did, this world will be better off.
In your Mission Statement (click the link for the statement) you describe 3 key strategic programs including: Maya's Rainbow Creative Classes, Maya's Rainbow Creative Spaces, and Maya's Rainbow Creative Activity Days. Could you tell us more about your philosophy behind these programs and your "3 pillars?"
All of our programs are based on three pillars, Inspiration, Exploration and Imagination:
For us, inspiration is flipping the traditional art project on its head. Far too often, a completed art project is considered the final product. It's our belief that the art project isn't the end, it's the beginning. It is the inspiration for what else we can create. So, we use traditional projects differently.
Exploration is all about figuring out what is possible and what you can create from materials. This is the no rules areas. Our design is to give kids who don't want to be shackled by a traditional art project the freedom to use all the same materials to make whatever they want, however they want to do it. It's all about exploring what is possible and not worry about what it looks like. We truly believe coloring outside the lines is the most beautiful kind of coloring.
The final pillar is imagination. In children's art programs, we are often focused on the project or the materials they are using, but I find we don't put enough thought into how well the environment they are creating supports all that. Our design to is to surround the space kids create in with things that spur fun and creativity. We take advantage of the walls. We combine sports and art. We get a little crazy. But, we also create quiet spaces. We want spaces that imaginations can be free, whether they are loud or quiet. If you come to our event on April 2nd, you'll see all of this come to life.
What have been the hardest challenge in starting your own non-profit organization? 
The hardest part has been learning that this won't happen overnight. Early on, I was incredibly frustrated with everything. I couldn't get the donations I wanted. Couldn't make the plans work. I can't tell you how many times I questioned why I was doing this. Through that and [seeking good advice], I learned to look for how I can be successful today. I haven't lost those dreams for Maya and for Maya's Rainbow Foundation. And that fire has certainly not gone away. I have just learned how to be comfortable with what I can accomplish right now.
What have been the unexpected rewards in starting Maya's Rainbow? 
Two things really stick out in my mind. One is what this foundation has meant to my son, Alex. He has been so interested in this. He was a part of the logo design and selection. He gave his ideas on the website and our programs. And he talks to teachers and friends about our upcoming art event a lot. My kids were as close as a brother and sister can be. They were inseparable. It has been so rewarding to see my son continue to show that same love for his sister through this. My hope is one day he takes the reigns from me and takes Maya's Rainbow Foundation to new heights. The second has been the coming together of the community around my family and my charity. We have had so much community support. It takes my breath away at times. Grieving our daughter has been a challenge like none other, but the support of community has truly propped us up when we couldn't stand on our own.
Parents ask me for Service Projects they can do with their kids. Is there a way for parents to volunteer with their kids to help Maya's Rainbow?

ABSOLUTELY!! So far, we have had kids run lemonade stands to raise money for Maya's Rainbow. We currently have one Bat Mitzvah girl dedicating her charitable project to us. My niece and her Hebrew school class have adopted Maya's Rainbow for their charitable project by selling snacks after school to raise money for us and have also done an art supply drive. Our elementary school dedicated their Walkathon to us. We are so open to these ideas and if someone wants to look for opportunities, they are welcome to email me anytime.
What are your biggest goals for Maya's Rainbow Foundation in the next five years?

Our goal today will be our goal five years from now. To have one more kid be inspired by Maya and have their love of art and creativity soar. I know it seems so simple, but connection matters so much to me that this is my focus. I got an amazing piece of advice from a friend who works for a non-profit. He told me that if you affect one kid, you have been successful. And ever since hearing him tell me that, I have been focused on that kid. Of course, we have dreams. Big dreams. But, I will never lose the focus of putting Maya's fingerprint on the heart of one more kid.
What else would you like people to know? 
I, honestly, want people to know how appreciative I am for every ounce of support we have received and continue to receive. I am humbled by it. So, if someone is seeing our story for the first time, we'd love the chance to welcome them into our extended family.
Thank you Seth!
CHECK OUT: 
April 2nd from 10:00am - 1:00pm
Leon & Toby Cooperman JCC
760 Northfield Avenue
West Orange, NJ 07052
For the event Facebook page please click here
For the event flyer click here.